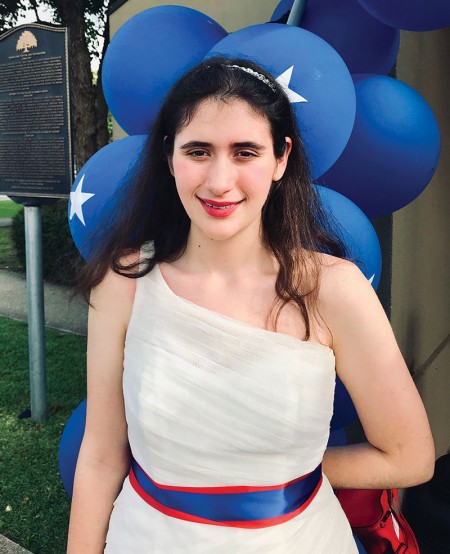 "Music gave me unexpected gifts: public speaking and leadership skills."
Our school of music as a commitment. Eugenie is a perfect example of what a committed student can accomplish. Studying music is important for students to gain more than just musicality. We help musicians expand their horizons and reach their fullest potential, We are proud that our Conservatory was a foundation for her studies.
EUGENIE PFLIEGER, AGE 17 | AUGUST 1, 2019
It would be nice to have an answer to every problem. Not knowing something, whether that be an answer to a math problem or which college is the best for me, is sometimes hard to handle. It is good to have a remedy to abate these challenging times. My remedy is singing.
I started singing when I was 8; I started lessons at the Acadiana Symphony Conservatory when I was 11. During my lessons, I discovered that music had a mind of its own; it was another world, an open door, instead of the blanket to hide from the noise that I once considered it to be. Singing opened doors to opportunities such as performing with the Acadiana Symphony Orchestra, singing before Juilliard representatives, being a member of Revels Houston (a community-based performing arts organization) and participating in Houston Grand Opera youth productions. Music gave me unexpected gifts: public speaking and leadership skills.
I was shy before I started singing, and I wasn't one to volunteer to speak in front of crowds. Through the years of practice, I became more comfortable with presentations and performances. Ultimately, these skills led to the creation of one of my most enjoyable passions: Band Together for a Change (BTC). BTC is a school-based musical band (with the hope of having a fiscal sponsorship soon) that aims to raise money for the National Endowment for the Arts by performing at local events. This program was created in 2018, and its purpose is to advocate for the importance of the arts in a student's curriculum. The band is composed of fellow British International School of Houston students.
Within BTC, we have a tabla player, a pianist, a drummer, a guitarist, singers and an aspiring upright bass player. (I am the optimistic upright bass player.) I have learned that music, and the arts in general, can be anything you want it to be. It can be a remedy in challenging times (such as senior year of high school) and can be the key to another world of which you could only dream.
This article was written by Eugenie Pflieger and originally appeared on thebuzzmagazines.com